What is a better alternative to tobacco based cigarettes? E-cigarettes, of course. These amazing devices satiate when you feel like having a drag and not burning a hole in your pocket and lungs. It does not harm your health or create a social stigma like traditional cigarettes. These e-cigs are the best resort if one wants to quit smoking tobacco as they have less or no nicotine and still provide users the experience of smoking. They come in various colors, flavors, and shapes and are sometimes even odorless. The best part that makes them better than traditional cigarettes is that they are portable, cost-effective and even pleasant smelling.
It, however, is important to choose the best e-cigarette for you. Also, choosing the best e-cigarette can be a little tricky. For those who are always looking for the best quality, flavor, and pricing point, here is a list of the best e- cigarettes 2018.
1. JUUL: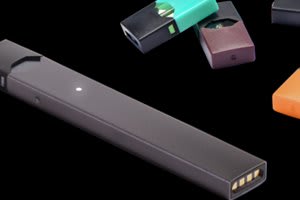 Buy Now
This startup has been winning it on every front. Its sleek design, great flavor, portability and overall appeal have led to a new term Juuling. That is the impact that it has created which has bound all smokers universally. It is a good performer and needs no buttons to start, all one needs to do is puff. Then a built-in sensor fires up and gives a good whiff of flavor. It comes in various attractive colors like blue, blush gold and flavors like cool mint, crème Brulee, fruit medley and Virginia tobacco. They use nicotine salts and it is easily removable and has a great level of convenience.
Each kit includes:
Rechargeable JUUL device
USB charger
Sample JUUL pods
| | |
| --- | --- |
| PROS | CONS |
| Amazing performance | Some pods have low strength |
| Quality of product is top notch | Nicotine salts used which may be less for some |
| The design is sleek and portable | You can use only Juul refills |
| A long battery life | |
Pricing: $49.99
2.KandyPens Rubi: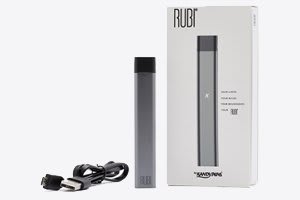 Buy Now
This is a new e-cig that has won applause for its open pod system that allows a lot of flexibility. One can use any e-liquid so it works as per convenience. It is durable, hit proof, and easily one of the strongest out there. They are draw activated, leak-proof, have a replaceable micro-USB cable, compatible with many e-liquids and has a beautiful smooth design.
Each kit includes:
KandyPens Rubi
Micro-USB cable
Refillable Rubi Pod
Charger
User Manual
| | |
| --- | --- |
| PROS | CONS |
| Own flavors allowed | Cannot view liquid level |
| Smooth draw resistance | Battery level is average |
| Gives a full flavor and vapor | |
| Ultra-portable | |
Pricing: $49.95
3.Phix e-cigarette: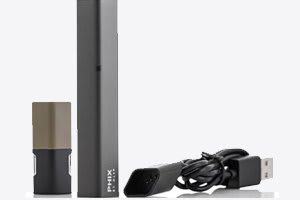 Buy Now
This closed system pod has been on the list mainly due to its performance and convenience. They are also a great value on the pricing point for the interchangeable pod's system it is. It is a sleek vaporizer and can hold up to 440 puffs. It comes with a great battery which lasts long and has more capacity.
Each kit includes:
Phix e-cig
Micro USB
User manual
Charger
E-liquids
| | |
| --- | --- |
| PROS | CONS |
| User-friendly | Not much of a smoke |
| Long lasting | Cannot vape while device charges |
| Magnetic  connection | |
Pricing: $34.99
4.V2 Pro Series 7: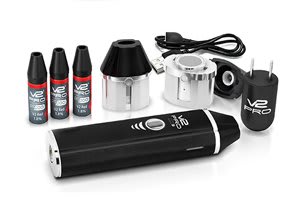 Buy Now
This is the all-rounder which can vape liquid, wax or herb. This durable, discreet, well-built pen has amazing vapor quality and is a great choice for beginners also. It is an improved version of Series 3 which got nice reviews from the vaping community. It is wider and has a very promising look. It is available in steel, blue and black colors. It has a strong battery and magnetic charger which allows vaping when plugged in. It is easy to clean and is highly popular.
Each kit includes:
E-liquid cartridge
User manual
Series 7 vaporizer
Pro pod adapter
Magnetic USB charger
Wall adapter
| | |
| --- | --- |
| PROS | CONS |
| 3-in-1 design | Small vapor clouds |
| Lifetime warranty | Auto shutoff can prove to be a disturbance |
| Magnetic cartridges | |
| Easy operation | |
 Pricing: $129.99
5.Halo G6 e-cig: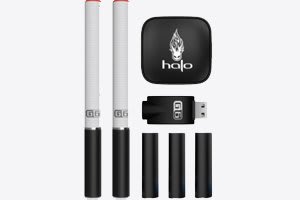 Buy Now
This e-cig will satisfy anyone looking for a small vaping device. The vape tank has a 2 ml capacity and gives a huge vapor cloud. It has a simple design and looks like a cigarette a lot. There is value for money and the pod is reliable. They have eleven flavors available and the nicotine strengths are pretty diverse ranging as well.
Each kit includes:
Two batteries
Five cartridges
Battery charger
Halo G6
User manual
| | |
| --- | --- |
| PROS | CONS |
| Elegant design | Only till 24 mg nicotine |
| Wide-ranging flavors | |
| Good battery life | |
Pricing: $35
Get more stuff like this
Subscribe to our mailing list and get Latest updates
Thank you for subscribing.
Something went wrong.